Cabinet Painting in Lewisville, Pennsylvania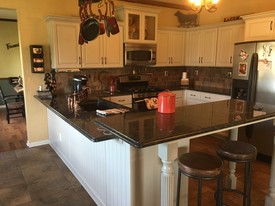 Cabinet painting in Lewisville is an inexpensive way to give your space a brand new look! The Lewisville cabinet painting experts use the highest quality paint and the most modern colors to give your kitchen or bathroom an amazing transformation. Whether you're looking for a vibrant splash of color or a subtle change, Farra Painting specializes in Lewisville cabinet painting.
Did you know that using a semi gloss finish will not only give your Lewisville cabinets a richer look, but also makes it really easy to clean? Farra Painting will work with you to match colors and textures to ensure the finished product is better than expected. Providing superior cabinet painting in Lewisville since 2016, Farra Painting has the expertise to instantly increase the value of your investment.
Don't Replace. Revamp!
On average, painting your Lewisville cabinets in a small-to-average size kitchen costs approximately $5,000-6,500. Full replacement of the same size would cost between $15,000-30,000. And in many cases, replacement costs could be greater than that as people tend to replace counter tops in the process, leading to electrical and plumbing work.
Why spend more than triple the cost by replacing? You can have a beautiful, newly updated-looking kitchen by painting your cabinets in Lewisville! No more outdated bathroom cabinets or boring kitchen cabinets. Call (484) 302-2094 for a free quote on cabinet painting in Lewisville.
---
Call for FREE Cabinet Painting Quote
---
WHAT CUSTOMERS ARE SAYING:
5★★★★★ - "Farra Painting is just the definition of excellence! They are professional, priced well, punctual, friendly, and treat your home as if it was their own! I highly recommend them! Norm and his team (Frank, Crystal, and Stu) are amazing painters!!! They completely transformed our home! They cut NO corners and do it all the right way!!! It's amazing to watch their process on kitchen cabinets! Again if you need a painter, this is the team you want!!!"

Jim C in Coatesville, PA

2020-12-09

5★★★★★ - "Norm Farra and his team did a beautiful job painting my kitchen cabinets! I'm completely happy with the experience from start to finish. I highly recommend Norm if you are considering having your cabinets painted."

Sue M in Kennett Square, PA

2020-12-04

5★★★★★ - "We chose Farra Painting at the recommendation of a neighbor and we're so glad we did. He painted our kitchen cabinets which included hand-painting the cabinets and spraying the faces off-site. It was pricey but much cheaper than buying new cabinets. They look amazing!!! He and his team were so respectful and helpful. I'd highly recommend Farra!"

Corey Shepherd in Wilmington, DE

2020-11-04

5★★★★★ - "Farra Painting did an amazing job on our kitchen cabinets. I didn't think it was possible to save our old, dingy cabinets......but our kitchen is now totally transformed into a bright space...thanks to Norms professional service! We are 100% pleased with their work and would highly recommend this company to anyone looking for a house painter."

Beth B., Cabinet Painting in West Grove, PA

2020-06-25

5★★★★★ - "Called for a quote, got a response immediately. Job was done ahead of projected estimate and the work is beautiful. Having my kitchen cabinets painted made my kitchen brand new! I would highly recommend this crew. Punctual, polite, extremely clean with attention to detail. Thank you so much!"

Arleen P. in Garnet Valley, PA

2020-06-19

5★★★★★ - "We had old cabinets that needed updating and painting throughout our house. Norm and is crew : Sergio, Frank and Patrick were unbelievably professional, neat, clean and did a great job. Norm will be the first one I call when I'm ready for a new project. I strongly recommend Norm Farra for your painting projects."

Richard De carlo in Havertown, PA

2020-01-27

5★★★★★ - "Norm and his crew were a dream to work with. Job is beautiful. Price was fair. Cabinets are a real transformation!"

Lois Macluckie in Elverson, PA

2019-10-03

5★★★★★ - "Norm and his crew did a fantastic job. They painted our entire condo, floor to ceiling, including my kitchen cabinets. They took my cabinets from maple to white. Beautiful job! Thank you!!"

Ann & Bob Tracey in Kennett Square, PA

2019-07-15

5★★★★★ - "Norm is the best! My kitchen cabinets look brand new. Norm was really responsive to all my concerns and his work is perfection. Lou did all the painting that had to be done on site and he was also great to work with. I would recommend Norm and his team to anyone looking for reasonable prices and great work. One of the best contractors out there!"

VTW in West Chester, PA

2018-10-29

5★★★★★ - "Farra Painting did an amazing job on our kitchen cabinets. I didn't think it was possible to save our old, dingy cabinets......but our kitchen is now totally transformed into a bright space...thanks to Norms professional service! We are 100% pleased with their work and would highly recommend this company to anyone looking for a house painter."

Anonymous, Cabinet Painting

2018-09-24

5★★★★★ - "Norm just today wrapped up painting my kitchen cabinets and I'm blown away. They look absolutely stunning. Our cabinets and drawers had 40+ doors and drawer faces and went to the ceiling with crown on top. I think it was a difficult job and I certainly was reluctant to have them painted since they were really nice bins but we just hated the color. Anyways, we priced this job and had multiple vendors come and visit us and pitch us on their work but not Norm, he said here's what I do and here's how I do it and here's how much I charge and we went with him based on his knowledge and welcoming every question and answering probably at least a dozen calls with more questions before we chose. I can't stop looking at these bins, they look like they were made in a factory, just flawless, no streaks, no orange peel, just perfect. Norm was great and responsive the entire process, a couple things went wrong with my kitchen that were unexpected for Norm and for sure more work but the price didn't change! He's great and treated my kitchen like it was his! Even helped me convert a cabinet into a trash slider... if you're thinking about painting your cabs- talk to Norm!!! Go to with Norm!!!! So thrilled with this job. He took my kitchen from 1983 to 2018 in 3 weeks.
PS: I will be posting an identical review on yelp sooner or later once my new counters are in and that review will have before and after pics. The review will be posted with the name Pete not Mark...
If anyone has questions about my job, wants pictures or a reference for Norm, email me at mhenski@gmail.com
Thank you Norm and all the best."

Mark H in Thornton, PA

2018-02-07

5★★★★★ - "Norm was recommended by a friend and I couldn't be happier with the results. My kitchen cabinets were dark and outdated looking and with Norm's expert guidance, I selected a creamy alabaster color which turned out beautifully. I am completely happy with the results and confidently recommend Norm to anyone looking for a very professional and expert job."

Joanne K. in Wilmington, DE

2017-12-26

5★★★★★ - "Norm is friendly and courteous and really cares about his customers. He provided insight on colors for painting our cherry finish maple cabinets to a beautiful creamy yellow. He was careful and considerate with our property and wanted us to be completely happy with the result....
and WE ARE! Thanks, Norm, for a great job. I will continue to recommend you to anyone looking for a professional painter with integrity."

Patricia in Upper Oxford, PA

5★★★★★ - "Norm painted our kitchen cabinets from a dark cherry wood to a white. He had a lot of insight and opinions on color, which helped take the stress out of finding the best paint color for the cabinets. He does the fronts offsite, which helped keep our house clean and uncluttered during the project. He even put on the new hardware! The kitchen came out beautifully, way better than we could have done ourselves, and it has changed the entire look of our kitchen and home. We kept Norm on to finish some much needed trim and paint jobs throughout our house, and he was fast and professional. Everything looks great, and we look forward to working with Norm in the future!!"

Joyce M in Hockessin, DE

5★★★★★ - "I highly recommend Norm Farra. I researched a bunch of local painters to paint the cabinets in my kitchen. I am so glad that I chose Norm. His price was reasonable and he did a fantastic job. My kitchen looks brand new and is so much cleaner and brighter. Norm was so easy to work with and respectful of my time. I am a very happy customer."

Maureen in Thornton, PA

5★★★★★ - "Norm and his crew did an amazing job painting my kitchen and dining room. Loved working with Stuart and Frank, they were outstanding. Will definitely have them when I'm ready to paint again. Recommend them highly."

Anonymous

2021-03-04

5★★★★★ - "Stuart and Frank were outstanding. Fantastic painters, extremely clean, great singers, known as the A-team. Will use them again and will recommend them to my friends and neighbors."

Tom and Gwen Burns

2020-12-14

5★★★★★ - "I had the Farra Painting crew here for two days to remove wallpaper and paint my dining room and they did a phenomenal job! They were friendly and courteous and even swept the floor after the job was done. The room looks amazing and I am so very happy with the quality of their work!"

Julie P in West Grove, PA

2020-09-14

5★★★★★ - "Norm Farra is the best bang for your buck. My cabinets went from old '70s looking to fresh off the shelf from Home Depot. He has a 5-star rating on home advisor. Pay attention to people, that doesn't happen because he's not good. Worth every penny! The thing I liked the most about Mr. Farra is he didn't come out with a clipboard and give me a dog and pony show about how this "special urethane" blend of paint that nobody else has is the way to go like the other 6 quotes I got. Save your time and go with Farra. He's a good ole American businessman who takes pride in his work. Thanks again, Mr Farra!"

Rick N, Cabinet Refinishing in Havertown, PA

2020-06-25

5★★★★★ - "After discovering water damage in our kitchen, we decided it would be good to not only fix the problem, but to paint multiple rooms in our home. I contacted a few painters and couldn't be happier that we decided to use Norm and his team at Farra Painting. From the ceilings down to the baseboards, we had work done in six rooms. We also decided to have our kitchen cabinets painted. Norm and his crew did a fantastic job! They arrived on time each day, worked hard while here (often singing while working), provided daily updates, completed tasks on time, and cleaned up daily. Most importantly, the results, and their quality, exceeded expectations. I will always use Farra Painting."

Anonymous in Kennett Square, PA

2020-01-27

5★★★★★ - "We hired Norm and his team to refinish and paint our cabinets. They did such a great job and were punctual and dependable! Since then we've asked them to paint other areas in our home and have been super pleased with the results. I would highly recommend Norm and his team!"

Vince in Landenberg, PA

2019-12-19

5★★★★★ - "Farra Painting is a homeowner's dream! They painted the exterior of my house, the interior and the kitchen cabinets. Although their prices are very fair, one makes a mistake deciding upon a contractor on price alone. The goal is to get a fantastic paint job for a very fair price. That's what Norm and his staff did for us. I've been in commercial real estate for 46 years and I'm telling you that Norm is the best painting contractor I have ever come across. If anyone wants a personal reference about Norm please call my phone number at 302-792-2737 extension 104. I would be happy to answer any questions."

Alan J in Chadds Ford, PA

2019-12-12

5★★★★★ - "Norm was professional and friendly. I was very satisfied with the quality of the job done."

Anonymous

2019-10-21

5★★★★★ - "Norm and his crew did a fabulous job refinishing my cabinets. They look so beautiful in my newly redone kitchen/dining area. Very friendly. Honest and affordable. Highly recommend!"

Dina D in New Castle, DE

2019-07-10

5★★★★★ - "Norm and his crew did a great job. They were on time, very friendly and respectful. Will be using again in the near future."

Jeff in Lincoln University, PA

2019-07-10

5★★★★★ - "My cabinet looks brand new. I had one cabinet door that had previously cracked. I glued it together with Gorilla glue (not my most brilliant moment). Norm removed the glues and the door looks perfect. I would recommend to anyone."

Sally in West Chester, PA

2018-10-22

5★★★★★ - "Norm came to give me an estimate within a day of my calling. He and his crew did a fantastic job with exterior painting. I find him to be upfront and very professional and appreciate the fact that he stays in communication at all times. I highly recommend him."

Rosemary in Landenberg, PA

2018-08-09

5★★★★★ - "Norm and his team were great! Hired then to come out and refinish our sad looking deck. Price was reasonable and the work was top notch....and fast! They really knew their stuff and communication was excellent. Deck looks great. We highly recommend."

Ericka K in Lincoln University, PA

2018-05-08

5★★★★★ - "Norm had a team of guys recently paint the interior of our home. Very courteous, great attention to detail and very good work ethic. Norm was kind and respectful of our time and our home. The patching, painting and chalking was very professional. The team always cleaned up nicely each day and were willing to redo or fix anything that wasn't to our satisfaction. Overall, Norm and his team did a great job!!!"

Susan Mahoney in Cochranville, PA

2018-04-12

5★★★★★ - "I used Farra Painting to help spruce up my home for resale. Norm did just that! He takes pride in his work and it shows. I felt very comfortable having him and his crew in my home. In one weekend, our house was under contract above asking price and Farra Painting helped to make that happen."

Leslie Leighton in Glenmoore, PA

2018-04-10

5★★★★★ - "They did a great job painting and drywall repair. Highly recommend"

K levandowski

2018-01-16

5★★★★★ - "Norm was recommended by a friend and we couldn't be more happier with the results. He was professional and courteous at all times and takes pride in his work. We would recommend him to anyone who is looking for excellent service and professional results."

Joanne K. in Wilmington, DE

2018-01-02

5★★★★★ - "Norm and his crew made our 33 year old stucco look new with power washing and painting! A top quality company with "old fashioned" standards of excellence.
Thanks for great work."

Deb B. in Glen Mills, PA

5★★★★★ - "I had a great experience with Norm Farra, who did some painting in my office and living room. He was easy to work with and put everything back together before he left. He seems to be a perfectionist and did everything possible to ensure that all was done correctly. I would highly recommend him and his company to anyone."

Joyce (Jenner's Pond) in West Grove, PA

5★★★★★ - "Farra painting was a top notch company. I can't say enough about them. The painter was a perfectionist with the paint job, clean up, and small repairs. For example, he noticed that the carpeting under sliding doors was too thick and prevented doors from sliding easily, So after painting the doors, he shaved the bottoms of the doors. Now, it's so easy to open and close the doors! Their price was honest and very fair. I highly recommend them!"

Anonymous, Painting

2017-07-20

5★★★★★ - "We had a tremendous experience with Farra Painting. Norm was a true professional and so easy to deal with. Very efficient and always accessible. They did a meticulous job. I would highly recommend them. Thank you Norm!"

Bonnie Monastra

5★★★★★ - "Norm came out and powerwashed our "new to us" home. He was amazingly quick to respond to our request for a quote and the follow up was equally fast. He was able to come out and do the job in a timely manner. He is very professional and the work is fantastic. The house went from sitting neglected for three years to looking almost brand new. Thanks Norm. We couldn't be happier."

Jake V, Pressure Washing in Bear, DE

5★★★★★ - "We had an excellent experience with Farra Painting. Norm came out to give me an estimate on the same day that I called for one. He was very professional and his prices were reasonable. We had two rooms and a whole lot of interior doors and trim that needed to be painted. Norm and his team worked quickly, getting the job done in less than a week. They were pleasant to be around and respectful of my schedule, and did an outstanding job on the work itself. I will absolutely hire Norm and his team again for future projects, and highly recommend them to anyone looking for a house painter."

Micki in Kennett Square, PA

5★★★★★ - "We hired Farra Painting for our home to repair and repaint most of the interior spaces. Within two weeks my home was transformed. Their work is high quality, staff is pleasant and respectful while on site, and they worked quickly. I plan to hire them again in a few months for external work."

Cristy in Oxford, PA

5★★★★★ - "I am a Real Estate Agent that needed to get a home painted prior to listing on the market. Norm was a total professional, from the first meeting through the last day. Communicated very well and even suggested things that were needed to make the home look great for selling the property."

Blair Helmick in Wilmington, DE

5★★★★★ - "Farra Painting did an amazing job on our home! Our house had not been painted in 12 years. The builder had never caulked or primed any windows, the walls had cracks, pealing drywall tape, you name it. Norm and his team came in and transformed our home - it looks new again and we are absolutely thrilled! In addition to the gorgeous painting, Norm was professional, friendly, prompt, tidy, and went above and beyond - he even helped fix our blinds and fireplace front. I highly recommend Norm and Farra Painting."

Sharon D. in Kennett Square, PA

5★★★★★ - "Norm came to our house to provide a quote within hours of my contacting him, and he started painting the next morning! Talk about prompt service! Norm is friendly, professional, and thorough. Painting our 2-story foyer was no easy feat, but he completed the job quickly and it looks beautiful. No need to search for other painting companies-just call Norm at Farra Painting. He's the best!"

Kate M. in West Grove, PA

5★★★★★ - "I used Farra Painting for a rental property which needed a quick turn around. I contacted Norm on a Wednesday, met him on Saturday, work began on Sunday and was finished in less than a week. Had nearly the entire 2000 square foot townhouse painted including trim. Norm and his team went above and beyond with extra handyman work that also needed to be completed. Norm kept me informed throughout the entire process, was extremely easy to talk to and work with. The house looks fantastic. I recommend Farra Painting and will use them again for future needs."

Donna Simone in West Chester, PA

5 ★★★★★ - "My husband and I are extremely happy with the work Norm did on our house recently. The previous owners of our house used the incorrect type of paint on our stucco exterior, which was causing the stucco to fall off in some sections and paint to bubble and chip all over the house. Other paint companies told us that they would just paint over the bad paint and void any warranties because they knew we would continue to have problems, but Norm went above and beyond our expectations in helping us to make sure the job was done the right way. He tried everything imaginable to strip the bad paint and put in many long days of work in the summer heat soda blasting, power washing, and then finally painting the house. His rates were extremely affordable, especially considering the amount of effort he put in, the quality of the finished product, and how quickly he scheduled and completed the job. He and his family were very professional and friendly, and they offered great advice outside of house painting for us as new homeowners. We will definitely contact Norm again in the future and recommend him to friends and family."

Brittany in New London Township, PA

5 ★★★★★ - "My girlfriend and I just bought a new construction home in Townsend, DE and shopped for several quotes for painting for our kitchen, family room, sunroom, and powder room. When Norm showed up to give us his estimate I could tell right away he was a professional and took pride in his work. He was personable, friendly, and prompt. He was able to fit us in right away at a fair price. He spent two days on our project and got all of the materials for us. He did an awesome job and left the house as clean as he found it. Norm did an excellent job and we are very happy with the results! We have additional rooms to paint and we will definitely be calling Norm back when we are ready to go."

Kevin Allen in Townsend, DE

5 ★★★★★ - "While searching for a painting contractor to work with for deck staining in our neighborhood, I contacted several companies. I was instantly impressed with Norm's attention to customers and professionalism. I choose to work with Farra Painting and couldn't be happier. He worked with over a dozen of our neighbors and the decks look great! All of us were extremely impressed with the high quality of work and Norm's customer service. We definitely recommend Farra and will personally be calling him for our next painting job."

Jill in Kennett Square, PA

5 ★★★★★ - "Norm did such a beautiful job on my deck. The deck was not maintained in quite a few years and it really needed a spiffing up. Norm power washed, sanded and stained the deck so nicely that it looks new! He and his daughter braved the 90+ degree weather to get the job done. Lovely people. I highly recommend them."

Suzanne in Kennett Square, PA

5 ★★★★★ - "Norm came out and powerwashed our "new to us" home. He was amazingly quick to respond to our request for a quote and the follow up was equally fast. He was able to come out and do the job in a timely manner. He is very professional and the work is fantastic. The house went from sitting neglected for three years to looking almost brand new. Thanks Norm. We couldn't be happier."

Jake V in Townsend, DE

5 ★★★★★ - "Norm and his daughter Britney did a fantastic job on my deck !! They were hired to seal and stain my deck. They were very polite, courteous and well mannered. The temperature was 96 degrees and the work still concluded at A+ level. I would definitely hire and recommend him and his daughter for future projects ! They worked good together as a team and as a family !!!"

Larry in Newport, DE

5★★★★★ - "Norm was contacted to do some painting for me because of his past reputation about being very good at what he does. Norm did all the leg work in obtaining the paint samples and helping to decide which color to select for painting my shutters and front door. Norm arrived on time and completed painting as he said he would by mid afternoon. I was pleased that he taped around the shutters and door edges and removed the door hardware before painting. While he was painting, he even suggested cleaning the outside of second floor windows at no additional charge. That was great! Norm was very professional and friendly. The door and shutters look great and I would definitely recommend Norm to others."

Linda, Exterior Painting in Oxford, PA

2016-07-25

5★★★★★ - "Great service and quick response. Norm at Farra Painting did a complete deck rehab for my home. Years of sun damage had really put a hurting on our deck. Norm replaced several boards, power washed, and sanded our deck prior to using a high quality Sherwin Williams solid waterproofing stain. We have a large deck and it took his crew three days in 90+ weather. We couldn't be happier with the results and look forward to having Norm do some inside work in the fall. Will gladly pass his name around to Friends and Neighbors."

Nick F. in West Chester, PA

2016-07-22

5★★★★★ - "Norm did his "Home Facelift" on my home and did a tremendous job painting all of my shutters and front door to match. The job was very affordable and I have already received many comments from neighbors and have passed Norm's, Farra Painting cards to several. "

Walt & Kathy in Kennett Square, PA

2016-07-22

5★★★★★ - "Norm did a great job. He spent several days in my home painting several bedrooms, two bathrooms, staircase, kitchen and Family room. He was always on time, and cleaned up like he was never here. He was also able to help me out with some handyman work around the house. I was getting the house done to prep it for sale and he made my home look brand new, I almost wanted to stay but moving out of state. I have and will continue to recommend Norm to my friends locally that I keep in touch with."

Patti B. in West Grove, PA

2016-07-22
---
Call for FREE Cabinet Painting Quote
---